Below you can read some of the comments in our guestbook. If you click on the image on the left, you read the handwritten excerpt from the book.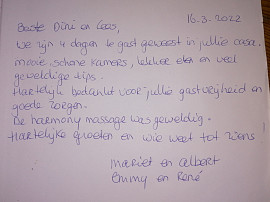 16/03/2022 Mariet & Albert, Emmy & René
Beste Dini en Cees,
We zijn 4 dagen te gast geweest in jullie casa. Mooie, schone kamers, lekker eten en veel geweldige tips. Hartelijk bedankt voor jullie gastvrijheid en goede zorgen. De Harmony massage was geweldig. Hartelijke groeten en wie weet tot ziens!